Custom Jewelry Process
Frontera specializes in handcrafting unique, custom jewelry that is seeped with meaning, memories, and intimacy. Due to the nature of this work, custom orders are limited so that metalsmith, Chayse Romero, can give love and attention to each special piece of jewelry.
FILL OUT INQUIRY HERE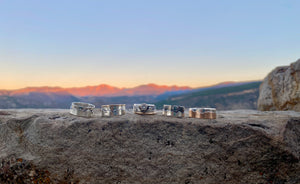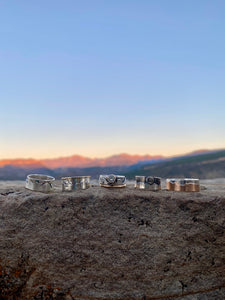 Now Booking Fall & Winter Commissions!
HOW IT WORKS:
$500 minimum per order
Custom order spots are released seasonally and we accept one order per week.
Step 1 | Subscribe and read my newsletter! - I only announce the opening of the custom order spots in my newsletter.
Step 2 | Fill out a custom jewelry inquiry form. This gives us an idea of what you are looking for and if we would be a good fit. From there we will reach out when we are filling our calendar for the season.
Step 3 | Pay a $200 deposit to officially get on our calendar. The deposit goes toward the cost of the piece(s).
Step 4 | Design time. Six-four weeks before I start creating your piece(s), we will work on dialing down your dream design. Keep in mind ACCURATE ring size(s), the featured landscape, precious metal, stone, and personalized message on the inside. 
Step 4 | Payment: At least half down is required for me to begin crafting the piece(s) and complete payment by the time your completion date comes.
FAQ'S
How many pieces are included in a "custom order spot"?

 

Each custom order consists of 1-2 rings, necklaces, bolo ties. It's totally your choice! If it's something like 6 rings, email me beforehand to see if you need to reserve 2 spots. 
What do I do if I don't get a spot and desperately want a piece?

 

Send me a nice email with what you have in mind for the custom order and I will assess if I have the capacity at that time. 
What metals do you work with? Check out this page to read about what metals we work in, it also includes pros and cons of a few of our favorite metals. 
What gemstones do you work with? All the pretty ones (i.e. diamonds, moissanites, sapphires, turquoise, variscite, etc) as long as they are responsibly sourced! 
How do we design the piece? Emails + an in-person meeting or facetime call. It is good to start this conversation six-four weeks before the completion date. 
How do payments work?

 

The $150 reservation deposit goes toward the cost of the pieces. Once we have a design dialed down, I will send you a link to pay all at once or in two payments. All payments are done via my website and at least half down is required for me to get started on the piece. 
What is your preferred method of communication?

 

Email please. 
Things to keep in mind regarding the design: 
We create feminine, masculine and gender neutral jewelry that is inspired by Mother Earth. Our portfolio is constantly evolving and growing. Here are a few things to keep in mind regarding the design:

Ring Size is very important to get right. I highly recommend getting sized professionally before ordering a ring. We can create quarter sizes. To resize a ring comes with an additional cost. 

Metal preference

. We work in sterling silver, 14K white gold, yellow gold, rose gold and palladium.

Gemstone

 

options are endless as long as we can supply the gemstones responsibly. Some of our favorite options are moissanite, Montana sapphire, Canadian diamonds, turquoise and more. 

Featured landscape

 

whether it be mountains, desert, a river can be sent via email. 

Complementary inscription

 can be added onto the inside of the ring. The secret message can be no more than 30-35 characters.